페이지 정보
작성자
관리자
댓글
0Comment
조회
1,431Hits
작성일

19-01-26 15:02
본문
KABELLINE
"Line Contouring Serum"
KABELLINE is a contouring serum to improve the appearance and profile of moderate to severe fat on the face or body. KABELLINE provides natural and sharp facial line by inducing the decrease of redundant lipids or fat on the face or body.
KABELLINE is a homeopathic product, indicated as a co-helper for treatment of obesity in all of its forms and manifestation as well for the most common dyslipidemias that tend to accompany the obesity problem.
 KABELLINE's main ingredient, deoxycholic acid, is US-FDA approved fat dissolving material and a human bile acid, a metabolic byproduct of human intestine bacteria, which is used in the emulsification of fats for the absorption in the intestine.
KABELLINE has double effects inducing lipolysis
²  Lipolysis by deoxycholic acid
²  Hypotonic lipodissolution by the unique formula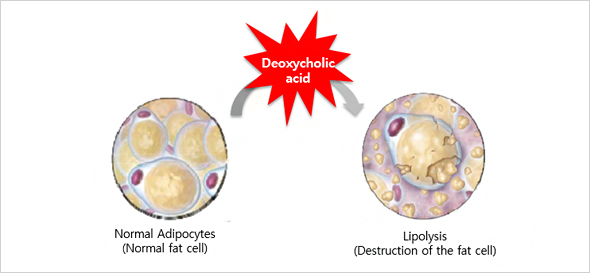 KABELLINE treatment is recommended six (6) times for five (5) weeks
²  4~8mL of the solution can be applied to a localized obesity area.
²  A single treatment consists of up to a maximum of 50 applications of 0.2mL with 1cm intervals.
²  Up to 6 single treatments can be treated at the interval of about 1 week

[Before & After Treatment]