페이지 정보
작성자
관리자
댓글
0Comment
조회
381Hits
작성일

19-01-26 16:11
본문
TOUCH UP
"Stem Cell Booster & Skin Rejuvenation"
TOUCH UP is the only sustained stem cell regenerator in the world based on the biodegradable and biocompatible polymer technology that promotes continuous stem cell proliferation, not one-time stem cell proliferation, unlike other products, and continuously promotes stem cell proliferation in the skin for a year.
TOUCH UP uses the biodegradable and biocompatible PCL. PCL has already been used in the US and Europe since the 1950s as a medical device in a wide variety of fields.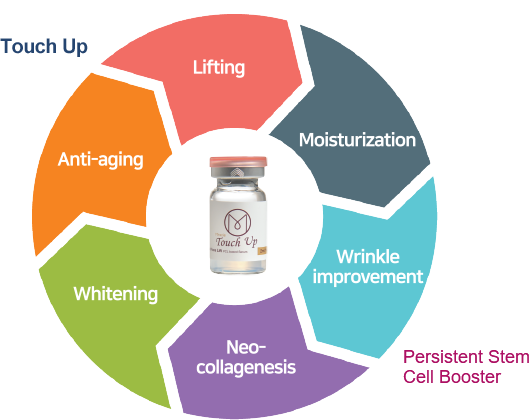 [TOUCH UP Program]
²  Apply Touch Up 2cc into dermis layer using MTS roller or general meso treatment method. For whitening effect, using with Touch BR is recommended.
²  After 3th treatment, determine additional treatment according to the condition of patients.
The frequency of injection may vary by the condition of patients.

[TOUCH UP Effect]