페이지 정보
작성자
관리자
댓글
0Comment
조회
301Hits
작성일

19-01-26 22:47
본문
BOTULAX INJ.
"Botulinum Toxin Brand with good purity and efficacy, developed by a Korean pharmaceutical company"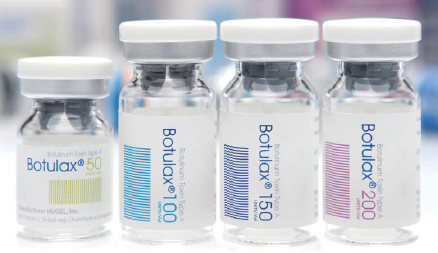 BOTULAX, Botulinum Toxin A is the number one non-surgical cosmetic procedure for both men and women which is produced from fermentation of Hall strain Clostridium.
BOTULAX 100 iu contains 100 units (U) of Clostridium botulinum toxin type A, 0.5 milligrams of albumin (human)and 0.9 milligrams of sodium chloride in a sterile, vacuum-dried from without a preservative. 
[Active Ingredients]
²  Clostridium botulinum toxins type A (100 units).
²  Stabilizer: Human serum albumin 0.5mg
²  Tonic Adjuster: Sodium chloride (KP) 0.9mg
[Mode of Action]
²  Botulinum Toxin Type A blocks signals from the nerves to the muscles.
²  The injected muscle no longer contract, which causes the wrinkles to relax and soften.
²  It is most often used on forehead lines, crow's feet (lines around the eye) and frown lines.
[Product Information]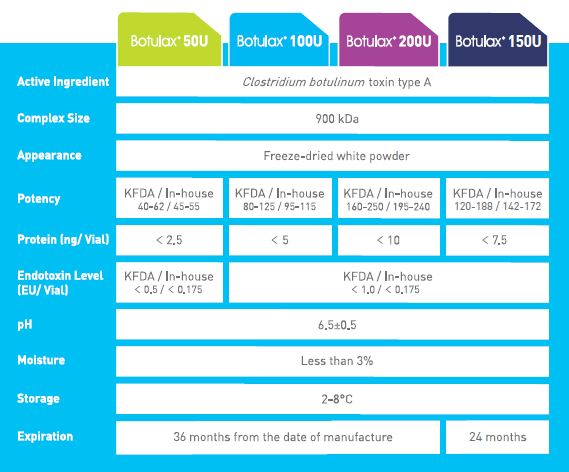 [Global Presence]
BOTULAX is being introduced to Korea, Japan, Southeast Asia (Thailand, etc.), Europe (Ukraine, etc.), Russia, South and Central America (Brazil, etc.).